Commercial Roofing in Northbrook, IL
Just like any other part of a commercial building, the roof will need maintenance every once in a while. As it's definitely not something to put off, outside elements like UV rays, rain, snow, and ice can create significant problems for roofing systems of any kind.
If you have found weakened areas or leaks on your commercial roof, it's important to act right away and call a professional. Only licensed experts will be able to pinpoint the direct location of the leak, providing the needed services to restore the area while keeping the rest of the roof in its best condition.
Commercial Roofing Northbrook, IL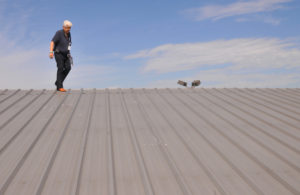 Reliable Roofing is available in Northbrook, IL and the surrounding suburbs to provide commercial roofing services for a number of buildings. Our experts are trained, experienced, and licensed to provide the services you need to have the peace of mind you deserve. We use the latest equipment and techniques to ensure that your building is secured from Chicago's harsh climate.
Within our commercial roofing services, we can provide roof repair, replacement, tear off, installation, maintenance, equipment installation, and more. When working with our roofing contractors, you can count on us to handle all of your roofing needs, as well as answer your questions.
Our roofing services cover all of the following buildings:
Retail stores
Schools and universities
Churches
Healthcare facilities and hospitals
Restaurants
Country clubs
Factories
Warehouses
Office buildings
Our commercial roofing services cover all of the following:
Maintenance: Reliable Roofing will conduct frequent inspections, repair any weakened areas, and document the services performed to keep your roof in its best condition.
Installation: We can provide a recommendation for the roofing system that best meets your needs, using the materials manufactured by the industry's top vendors, including GAF, Firestone, and Johns Manville.
Roof Repair: Our professionals will respond immediately to prevent the damage from becoming worse, replace the insulation if needed, and repair the weakened area.
Roof Replacement: Reliable Roofing can suggest whether repair or replacement is needed, recommended a quality system and manufacturer's warranty, and install it properly while preventing any problems in the future.
Equipment Installation: As there is a number of equipment installed on a commercial roof, we often work with contractors to waterproof equipment or install it, depending on your needs. Everything from flashing to roof anchors, you can depend on us to get the job done right the first time.
Contact Us
Reliable Roofing is proud to service the city of Chicago and the metropolitan area with quality commercial roofing services. When working with our contractors, you can expect nothing but the best results and peace of mind as we ensure to keep your building protected after the service.
Free Estimate
For more information regarding our commercial roofing services in Northbrook, IL or a free estimate, contact Reliable Roofing at (815) 981-9898.
---
Related Commercial Roofing Services:
Commercial Roofing Skokie, IL
Commercial Roofing Arlington Heights, IL
Commercial Roofing Lake Zurich IL
Commercial Roofers Elk Grove Village, IL
Commercial Roofing Schaumburg, IL
Commercial Roofing Chicago, IL
---
Review by Joe
Reliable Roofing
Rating 5

"We decided to use Reliable Roofing to install a new roof on our building because of their years of experience, excellent referrals and knowledgeable staff. We highly recommend them to anyone."