Commercial Roofing in Skokie, IL
Licensed and insured up to $6 million.
The importance of secure roofing on commercial buildings cannot be overstated. It is the role of these roofs to protect the people and valuable assets of businesses, educational institutions, medical facilities, churches, and more.
At Reliable Roofing, we offer a range of commercial roofing services to inspect, replace, and maintain commercial roofs in Skokie, IL and the surrounding areas. Through these services, we will not only protect the important people and items beneath your roof, but also increase its operational life.
Commercial Roofers Skokie, IL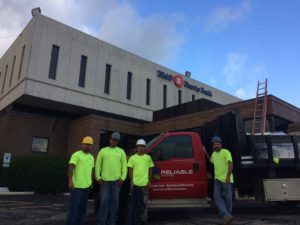 At Reliable Roofing, we have worked with a number of commercial property owners to secure and maintain their buildings' roofs. Our work is insured for up to $6 million and our work to increase the lifetime of your roof.
Our roofing contractors are highly trained and equipped to provide these dependable services. As a member of the National Roofing Contractors Association (NRCA), it is our mission to ensure an optimal result for your facility.
Commercial Roofing Services
The materials and scale of work utilized in commercial roofing is often much different than residential roofing. No matter your needs, Reliable Roofing will make use of high-end materials from leading industry manufacturers.
These connections allow us to assist commercial property owners of all types, and effectively service office buildings, warehouses, churches, restaurants, healthcare facilities, schools, universities, retail stores, and more.
Commercial Roofing You Can Trust
At the end of the day, we understand how important a secure roof is to ensure the safety of your building, your assets, and individuals on site. To help, we offer the following through our commercial roofing services:
Commercial Roof Repair: Severe weather, animals, and other factors can damage even the sturdiest of roofs. We provide full inspection and repair services in commercial settings.
Commercial Roof Replacement: If your roof is damaged and due to be replaced, we will fully replace it through our proven methodologies.
Commercial Roof Installation: We have the experience and equipment necessary to install a wide range of commercial roofs.
Commercial Roof Construction: We adhere to standard construction protocols while fixing or installing your roof.
Commercial Roof Maintenance: General wear and tear can lead to the need for minor restoration and repair services. We provide standard maintenance to address these needs.
Sheet Metal Roofing: Sheet metal roofing is strong, durable, and improves the heating and cooling efficiency of the building. We have the ability to install and repair these popular roofs.
Repair and Replacement of Roofing Components: Sometimes certain roofing components wear out before others. We can address these specific needs individually. Examples include decking, insulation, and more.
A Large Selection of Roofing Products: We offer a range of quality, dependable roofing products, from TPO and PVC to modified bitumen and more.
Free Estimate
To get a free estimate and take advantage of our commercial roofing services in Skokie, IL, contact our Reliable Roofing representatives at (815) 981-9898. We will address your roofing needs in a timely, cost-effective manner.
---
Related Commercial Roofing Services:
Commercial Roofers Elk Grove Village, IL
Commercial Roofing Schaumburg, IL
Commercial Roofing Arlington Heights, IL
Commercial Roofing Chicago, IL
Commercial Roofing Lake Zurich, IL
Commercial Roofing Northbrook, IL
---
Review by Joe
Reliable Roofing
Rating 5

"We decided to use Reliable Roofing to install a new roof on our building because of their years of experience, excellent referrals and knowledgeable staff. We highly recommend them to anyone."