Roof Replacement in Skokie, IL
Free estimates.
Commercial roofing systems are manufactured to withstand even the most brutal weather conditions, ranging from 20 to 50 years, depending on how well the roof is maintained. But nothing lasts forever; all roofing systems will need to be replaced at one point.
When you start to notice frequent leaks and weakened areas, it's time to consider a new roofing system. While this service can be costly, it is crucial that the job is performed by a professional. As the materials must be installed properly, this job will require experience and training to prevent leaks in the future.
Roof Replacement Skokie, IL
When it comes to roof replacement for commercial buildings in Skokie, IL and the surrounding areas, Reliable Roofing is a licensed and experienced contractor that can get the job done efficiently and effectively. Included within a free estimate, our professionals will conduct a detailed inspection, followed by a recommendation of the roofing system and warranty that best fits your building.
When it comes to installing roofing systems, our roofing contractors have experience in installing a number of different types, including TPO, EPDM, PVC, modified bitumen and Turbo-Set Roof Coating. We also work with the industry's most reliable roofing manufacturer's including Sarnafil, Johns Manville, Firestone, and more. After the new roof is installed, you can be sure that your building is fully protected against Chicago's harsh weather elements.
Roof Re-Covering
In many cases, the building will qualify for a roof re-covering instead of a replacement. This will involve replacing the membrane, insulation, or coverboard, extending the lifespan of the current roof.
A roof-recovering is known as a more cost-effective solution in order to "buy" more time for the property owner. If this is something you are interested in, simply call Reliable Roofing directly or fill out a form to confirm that your building qualifies for this service.
Roof Replacement Services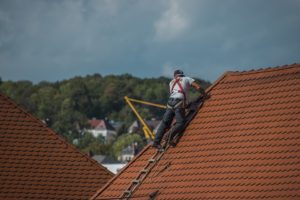 Included in our roof replacement services, our professionals use special equipment, perfected safety measures, and years of training and experience. They are also licensed to perform a number of services, ensuring the best results and years of coverage for your building.
When replacing each commercial roofing system, Reliable Roofing always follows a detailed process to provide the best results for each customer.
Our roof replacement services cover the following procedures:
Roof inspection
Proposal of free estimate that includes detailed costs of roofing system installation and warranty
Old roof tear off
Decking replacement
Installation of new insulation, vapor barrier, and/or coverboard, depending on the manufacturer's design and specifications
One of the following roofing systems is installed
Final inspection to ensure water tightness and proper fitting of roofing equipment
When looking for a roofing contractor to replace your current system, finding a provider that is experienced and licensed is important. To ensure that the materials are properly installed and your building is protected from leaks, contact the professionals at Reliable Roofing.
Free Estimate
To receive a free estimate for a roof replacement service in the Skokie, IL area, call Reliable Roofing at (815) 981-9898.
---
Related Roof Replacement Services:
Roof Replacement Elk Grove Village, IL
Roof Replacement Schaumburg, IL
Roof Replacement Arlington Heights, IL
Roof Replacement Northbrook, IL
Roof Replacement Lake Zurich, IL
Roof Replacement Chicago, IL
Roof Replacement Crystal Lake, IL
---
Review by Rachel
Reliable Roofing
Rating 5

"I will recommend your company to anyone! The entire experience working with your company was a pleasure. Your Foreman explained every detail to us and we really appreciate how nice he and the entire crew was. They were all very professional and courteous."