Roof Maintenance in Skokie, IL
Licensed and insured up to $6 million.
Roofing can be expensive, and whether it's new or old, it can become damaged and develop leaks with little to no warning at all. This is why we encourage you to protect your investment with our proven commercial roof maintenance services.
At Reliable Roofing, we will extend the lifespan of your roof, protect your valuable property, and save you money in the long run. Our Roof Maintenance Program utilizes a time-tested, established plan to prevent leaks, broken shingles, storm damage, and more.
Our roofing contractors pay very close attention to detail and ensure a quality result. We offer our roof maintenance services to commercial property owners in Skokie, IL.
Our Roof Maintenance Program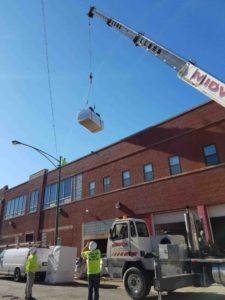 When you choose to take advantage of our proven Roof Maintenance Program, you can expect the following:
Full Inspections: We will provide you with a full inspection as often as required. These inspections include details of any damage, leaks, or other problems that can result in future damage. You can also expect a list of recommended repairs to paint a better picture of what it will take to maintain your roof's condition.
Repair and Replacement Cost Analysis: After our inspection, we will provide you with a complete report of repair costs for identified damage. You can then choose what to address based off of your needs and budget. Details of damages, repairs, and costs will be reviewed when providing future roof maintenance.
Roof Repair and Replacement Schedule: Because all roofs are prone to deterioration, we will prepare a repair schedule to detect and fix any leaks and damage as soon as possible. We will also update you on your roof's lifetime so that you can prepare for any major investments that may be required down the road.
Manufacturer's Warranty: Many major roofing manufacturers require semi-annual inspections or maintenance for you to qualify for their warranties. Our inspections, repairs, and reports will meet these requirements.
Proper Documentation: We will update our database with the history and maintenance tasks for your roof after each scheduled visit. This helps us detect future problems and prevent unnecessary damage. We will also use this information to determine when your roof may need another inspection.
Return on Investment: By taking advantage of our Roof Maintenance Program, you will be able to leverage the full manufacturer's warranty and extend the operational life of your roof. Studies show that every $1 spent on roof maintenance results in $3 of future savings.
Get a Free Estimate
In the case of an emergency, we will respond within 24 hours to prevent unnecessary damage and protect your building. To get a free estimate and take advantage of our roof maintenance services in Skokie, IL, contact our Reliable Roofing representatives at (815) 981-9898.
---
Related Roofing Services:
Roof Maintenance Northbrook, IL
Roof Maintenance Lake Zurich, IL
---
Review by Craig
Reliable Roofing
Rating 5

"I want to thank you and to let you know that it was a pleasure to work with the service crew that came out to repair our roof. They were on time, honest and did a great job, the office was upfront and professional. I will make sure that all my friends and neighbors know about Reliable Roofing."