Roof Replacement in Schaumburg, IL
Insured up to $6 million.
Commercial roofing systems are indeed among the strongest, but nothing lasts forever. It can be difficult to justify when exactly is the right time to replace a roof, but a professional like Reliable Roofing can provide you with a professional suggestion after a detailed estimate.
If you are in need of a roof replacement, Reliable Roofing is available in Schaumburg, IL and the surrounding Chicago suburbs to provide this service for you. Our contractors have years of experience in installing a number of roofing systems, including EPDM, modified bitumen, PVC, and more.
Our roofing contractors are fully licensed, bonded, and insured to provide complete peace of mind. We are also a proud member of the National Roofing Contractors Association and work in compliance with OSHA standards to provide the best results for your building.
Roof Re-Covering
If you have noticed a few leaks and are concerned about whether you need replacement services or just want a redesign, a roof re-cover may be your best option. This may involve installing a new membrane, coverboard, or additional insulation. But the goal is to extend the lifespan of the roof and buy some time to get ready for your next replacement.
Roof Replacement Company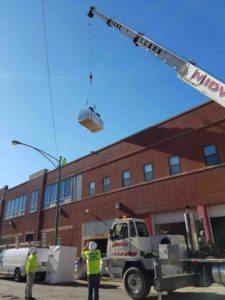 To provide you with a professional service, the professionals at Reliable Roofing follow a multi-step process.
Our roof replacement services cover all of the following:
Inspection of the current roof
Warranties review
Tear off of the old roof
Insulation installation for new roof
Installation of one of the following materials:
Sealing of the new roof
Final inspection and review of warranty
If you are constantly dealing with leaks every time it rains or even want to save on energy costs due to your current roofing material, don't hesitate to give Reliable Roofing a call. Our experts will respond within 24 hours, provide a free estimate, and recommend the same roofing system or a different material that fits your needs and budget.
Schedule an Appointment
For a free estimate on roof replacement services in the Schaumburg, IL area, contact Reliable Roofing at (815) 981-9898.
---
Related Roof Replacement Services:
How Much Does it Cost to Replace a Roof?
Roof Repair vs. Replacement
Roof Replacement Lake Zurich, IL
Roof Replacement Chicago, IL
Roof Replacement Elk Grove Village, IL
Roof Replacement Arlington Heights, IL
Roof Replacement Crystal Lake, IL
Roof Replacement Skokie, IL
Roof Replacement Northbrook, IL
---
Review by Rachel
Reliable Roofing
Rating 5

"I will recommend your company to anyone! The entire experience working with your company was a pleasure. Your Foreman explained every detail to us and we really appreciate how nice he and the entire crew was. They were all very professional and courteous."