In every region, whether temperate or severe, warm air rises. Without suitable roof ventilation, the humid atmosphere that surrounds the topmost part of a commercial building has nowhere to go. A myriad of issues arise when a commercial roof lacks adequate ventilation.
Before jumping into the problems of insufficient ventilation, it is important to point out the purpose of commercial roofing ventilation. A building's attic ventilation system works to allow any heat and accompanying moisture trapped in the upper part of the building to escape, especially in summer. At the same time, a proper ventilation unit prevents cold air from filtering to the inside. The balance of temperatures between the indoors and outdoors is achieved during winter by functional roof vents.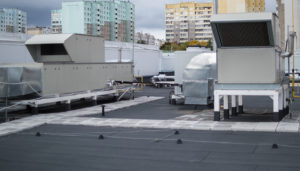 A commercial roof ventilation system is crucial to keep the roof at a steady temperature. Without working roof ventilation, problems, like any of the following, will occur:
Mold Growth
Along with heat comes moisture. When heat is not directed away from the roof, moisture tends to build up. Condensation pools in the attic, allowing mold spores to use the moisture as a feeding ground. In a moisture-rich attic, not only mold, but mildew can take hold. Mold spores can colonize along the roof within as little as 24 hours.
Mold growth in a commercial building is dangerous. Health hazards result from people breathing in scattered mold spores. Plus, the building's structural integrity is compromised when mold eats away at the roofing materials, leading to an outbreak of decay and rot.
One powerful indicator of poor ventilation in the attic is rusted nails. The moisture-rich environment that results from inadequate roof ventilation makes rust a likely outcome.
Ice Dams
Ice dams are a consequence of inadequate roof ventilation during winter. The warm air that collects under the roof causes accumulated snow along the roof to melt. When snowmelt occurs in some areas of the roof but not in others—like the edge of the roof—then the melting snow can solidify into ice. Water accumulation and leaky patches are additional outcomes. The building's roof is also at risk for collapse under the weight of the ice and water buildup that should have drained off under proper circumstances (rather than refreezing).
Melting ice dams pose as a property hazard. The water will leak into the attic, causing an influx of mold and mildew growth that will eventually infest the rest of the property.
Water stains on the ceiling are a telltale sign that the roof has a moisture problem, an issue that is likely to have resulted from poor roof ventilation.
Increased Energy Expenses
The accumulation of heat in the attic space and along the roof will seep into the rest of the property. The building's air conditioning unit will overwork, leading to soaring energy costs during the summer months. A strained AC system is also likely to fail in time.
Diminished Roof Life
Insufficient ventilation leads to a host of problems with the roof itself, often decreasing its lifespan. Roof deck warping, bucked shingles, and warping of the wood frame are all consequences of poor roof ventilation. Damage to the building's siding may also result. Property managers may also notice interior paint warping. Insulation that has eroded is another outcome of inadequate roof ventilation. Overall premature aging of the roof accompanies poor roof ventilation.
Importance of Roof Inspection and Maintenance
Regularly inspecting and maintaining the commercial roof will avoid the host of problems associated with inadequate roof ventilation. Roofing experts recommend a balance between air intake and air exhaust roofing vents to eliminate the emergence of potential problems.
Achieve continuous air flow out of the attic space with an air exhaust vent. Numerous vents are on the market, including ridge vents, power fans, turbines and roof louvers. A commercial roofing specialist will inspect your property and help you select the most appropriate air exhaust unit.
Air flow throughout the roof
While the outflow of air is important, an air intake ventilation is also necessary to provide optimum ventilation to the attic. Usually situated near the roof eaves, the air intake system will provide continuous airflow. Several systems are available, including rooftop vents, undereave vents, vented drip edge, and mini louvers.
Working with a Professional Roofing Contractor
Roofing professionals have the ability to inspect a commercial roof to look for signs of poor roof ventilation. Some commercial roofs require different ventilation systems than other commercial roofs. A knowledgeable commercial roofer will recognize the differences and provide services based on these variations. The right commercial roofer will also help a property manager design the right ventilation system, based on variances such as the area's snowfall and temperature.
When signs of poor attic ventilation are either subtle or loud and clear, contact a professional commercial roofer to inspect the ventilation system. Northern Chicagoland's most trusted roofing contractor is Reliable Roofing. We are licensed, insured up to $6 million, and fully bonded to give clients peace of mind. We are also a member of the National Roofing Contractors Association.
Reliable Roofing works with the industry's top manufacturers to deliver premium quality materials to every project. We have serviced various commercial properties, including hospitals, schools, office buildings and warehouses.
Roofing Services

Typical roofing services provided by Reliable Roofing include commercial roof repair, full commercial roof replacement and commercial roof installation. Our skilled technicians are also trained to replace parts of that roof, such as areas that display damaged insulation and decking. Our contractors are also experienced in handling sheet metal roofing installation, repair and maintenance.
A commercial roof is one of the most important aspects of a building. A solid commercial roof protects the employees and customer underneath it. Property managers should carefully consider roofing contractor options. Reliable Roofing ensures high quality service with every project.
Reliable Roofing is equipped to meet all your commercial roofing needs, including roof ventilation services. We are heavily invested in providing quality service and using the best materials on the market. Reliable Roofing proudly serves the Lake Zurich, Chicago, IL and northern Chicagoland communities of businesses.